"It is not the university's problem, Matt, you volunteered to deploy."
My stomach twisted as the law school's administrator spoke these words to me. I watched my dreams of becoming a lawyer crumble and fade into the beaming, confident smile of the administrator, as I heard my first sergeant, in my head, saying, "tell that university, USERRA's got you." I felt as if I had done something wrong as if I should be ashamed of my decision to deploy overseas. This resulted after I provided notice to my university that I had been ordered to report to Fort Bliss, Texas, for mobilization to the northern Sinai Peninsula, Egypt.
After a polite reminder to the private, non-profit university's board of directors that kicking a member of the military out of school for deploying is not a good look, I received a follow-up email a few days later from the same administrator that the university would digitally record my classes throughout my mobilization, as I had initially requested.
Private, non-profit organizations, most American colleges, and universities are organized under Internal Revenue Code 501(c)3, which allows for federal tax exemption, i.e., they are not required to pay federal income tax. This alluring freedom is conditioned on the non-profit organization – in this case, university – to provide a charitable service, e.g., educational services, to the American public, among additional conditions. Private, non-profit universities are also required to have a board of directors. Boards wield a considerable amount of influence on university operations, and their often-anonymous members enjoy staying out of the limelight. Finally, despite the commonly shared, tired fallacy that for-profits are bad and non-profits are good, all schools, regardless of sector, are accountable for their treatment of Student Servicemembers and Student Veterans. Above all, I realized that the Uniformed Services Employment and Reemployment Rights Act (USERRA), cited by my former military leadership above, does not protect activated students and, had I not been an effective self-advocate, the university would have academically withdrawn me, a Student Servicemember, simply for enthusiastically carrying out my military duties.
Distressingly, I was alone in my months-long fight to protect my status as a student of law: (1) I could not afford to retain an attorney, as many students similarly lack the funds to do so; (2) the military point of contact, referenced in Executive Order 13607, worked for and was paid by the university (partial, opposing party); (3) the Federal Department of Education (ED) or (DoED) does not represent individual students; (4) the Massachusetts Department of Higher Education similarly does not represent individual students; (5) my well-meaning military unit's leaders forwarded me to the Employer Support of the Guard and Reserve, an organization that relies on USERRA to support its employee Servicemembers, not Student Servicemembers; and (6) the U.S. Department of Justice does not include education rights in its Servicemembers and Veterans initiative. As such, I had no support during my university's attempt to academically withdraw me.
I found Veterans Education Project (VEP) through my research into the DoED's proposed rule to amend the general, establishing eligibility, maintaining eligibility, and losing eligibility sections of the Institutional Eligibility regulations issued under the Higher Education Act of 1965, as amended (HEA), related to distance education and innovation. For my own enjoyment, I provided a Comment for the Committee to consider in its rulemaking process.
VEP's founder, Daniel Elkins, had provided testimony at a public hearing, held according to federal rulemaking requirements, and was cited by the rulemaking committee. Daniel, an actively serving member of the Green Beret, immediately inspired me because of his combat-military service and knowledge of the legislative process. Embarrassingly, my understanding of the legislative process was limited to what I remembered from Schoolhouse Rock, I'm Just a Bill, so I was excited to learn more about the process that had left me with no recourse during my fight to remain a student of law throughout my military deployment.
VEP invited me to Washington D.C. to share my unique story and my experience using the G.I. Bill as a Student Veteran and consumer of educational services. For the first time, I felt like I had someone in my corner, albeit after completing my deployment and law school. I flew to D.C. and met with other Veterans, like me, who had stories to share about their military service and academic studies. I felt as if I was back in my infantry platoon, plainly conversing with fellow soldiers. VEP did not compensate me for participating in its sharing of our group's Student Veteran experiences, and I was not provided a script or guidance on what to say. Instead, I was encouraged to share my story – from the heart – about balancing military and academic commitments and using the G.I. Bill as an individual. I felt no pressure to say anything and the environment was very relaxed.
We met with members of the Congress, under COVID-19-compliant conditions and via Zoom. I was honored to share my experiences as a Student Veteran with Representative Mike Levin (D-CA), Chairman of the Economic Opportunity Subcommittee in the House Veterans Affairs Committee, and the offices of Senator Jim Inhofe (R-OK), Senator Tom Cotton (R-AR), Senator Jon Tester (D-MT) and Senator Kyrsten Sinema (D-AZ). While not advocating for a particular candidate and not partaking in partisan activity, it was immensely refreshing to have someone, anyone, genuinely listen to what I had gone through, and the experience brought closure. If nothing else, someone listened to what I had to say about balancing school and military service, and I was privileged to plainly converse with fellow Veterans in a safe environment within our Nation's hallowed capital.
My military deployment was easy in comparison to dealing with university administrators. I would welcome the sounds of Egyptian gunfire, tank rounds, and CRAM alerts over the bureaucratic cries of overpaid, entitled university administrators any day of the week. I am confident that other Student Veterans and Student Servicemembers can relate to that feeling, so I implore those reading not to be silent in the face of adversity; you are not alone, and there are many people and organizations who care about your academic success.
---
This blog was written by a member of the Veterans Education Project. These are the views and opinions of the author and are not necessarily that of the Veterans' Education Project.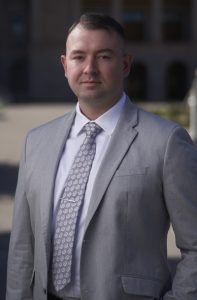 Matthew Feehan is not an attorney. His views are his own and in no way reflect official U.S. Department of Defense policy or position of Veterans Education Project. Matt is a former infantry officer with the Massachusetts Army National Guard and served as a boatswain's mate with the United States Coast Guard Reserve, Port Security Unit 301, before he earned his commission from Boston University's Reserve Officer Training Corps. He later served as a summer law intern and honors law clerk for the Department of Justice, Executive Office for Immigration Review. He deployed to the Northern Sinai to support the Multinational Force and Observers mission as a force protection platoon leader. As a graduate of Western New England University School of Law, he focuses his research and writing on Servicemembers' rights within academia. Follow him on Twitter or LinkedIn.