The problem is that universities and colleges vary significantly in service and support across the country, making few institutions "Veteran ready" and able to meet the needs of the Veterans they educate.
Even further, research shows that one of the most significant barriers to the pursuit of a college degree after service is the perception among transitioning military members that they would not be welcome, supported, or valued in an academic setting. The trick is to focus on strengths-based support rather than solely focusing on the challenges Student Veterans face.
Whether you are an administrator, staff, faculty, or anyone interested in robustly transforming their institution from "Veteran friendly" to a "Veteran ready" model of support services, partnerships, and programming, consider the following recommendations to attract Servicemembers, Veterans, and their dependents.
Reprioritize degrees to bridge the skill gap
Veterans and non-traditional students juggle a host of responsibilities when joining colleges and universities to reskill or upskill. Consider sidestepping the time and location constraints to promote lifelong learning opportunities for all while encouraging creativity, curiosity, and collaboration.
Focus on molding future employees by imparting knowledge, skills, and competencies demanded in the labor markets. For this reason, there is an urgent need to reimagine degree programs, courses, and curricula in general, to meet the needs of modern learners while keeping pace with the evolving workforce. This is especially true for Veterans who come to class with diverse work experiences.
This shift comes at an unprecedented time as higher learning institutions have been thrown into online and in-person hybrid formats, blended learning, accelerated programs, part-time options, and more as we navigated the challenges brought upon by the COVID-19 pandemic. Now is the time to adapt to attract non-traditional students.
On and off-campus support essentials 
Increasing adequate access for Veterans and especially women Veterans transitioning to civilian life and life on campus should include, but not be limited to, academic counseling, Veteran centers, therapy and counseling services, disability services, health care, and peer support. These essentials are necessary to correctly identify and cultivate positive interactions during the enrollment and duration of study for Student Veterans.
Treating Student Veterans as a cultural group with specific needs, such as quiet spaces, transition training and mentoring by peers, and increased communication about Veteran-eligible services will make a difference by empowering the leaders of tomorrow.
Build state and local alliances
Universities and colleges should consider forming alliances with nearby higher education institutions, community groups, and guard/reserve units. This effort would create places for Servicemembers and Veterans to share advice and perspectives, receive available information on relevant resources, and reduce feelings of isolation.
This lack of awareness not only affects the experience of those Veterans already on a college campus but, unfortunately, also the college aspirations of many transitioning military members and impacts where they apply and enroll and what they choose to study.
Create a campus community
Consider partnering with a Veteran Service Organization (VSO) or Military Service Organization (MSO). Joining forces would establish and continue supporting Student Veteran organizations, especially those enabling Veterans and Servicemembers to serve a leadership role and have their voices heard by multiple audiences. In turn, these groups become a force multiplied through universities and colleges by actively inviting speakers, hosting forums, events, and providing staff resource training.
Collaborate for social equity and impact  
If you already have some of these items, consider force-multiplying with other nonveteran on-campus groups to create or host speaking forums, events, and providing staff resource training to and with academic departments, national observances, and just fun things happening on campus. In higher education institutions, amid enrollment fluctuations, the student experience, social equity in the sector, and the future of international student mobility will need opportunities to unify and explore issues, policies, and civic responsibilities.
Agencies to follow
Administrators and policymakers should be keeping up to date with the Department of Veterans Affairs (VA), Department of Labor (DoL), and Department of Defense (DoD) by subscribing to their newsletters and following them on social media for news, updates, and benefits information.
Don't forget to add this to your favorites. The National Resource Directory (NRD) is a government resource for military members, Veterans, dependents, and health care professionals. This website offers a collection of resources to help wounded warriors and those who care for them in various areas.
Check your ranking, how do you compare?
Go to the U.S. Department of Education's College Scorecard website to compare schools by programs, degrees, location, and size. Here you can catch a glimpse of what Student Veterans will be looking for and how you compare considering the average annual cost, graduation rate, and average salaries of school alumni.
Veterans are usually referred to the GI Bill Comparison Tool to start researching schools. The GI Bill Comparison Tool shows critical affordability and value for each school, including graduation rates, median borrowing amounts, and student loan default rates. Make sure you comply with the VA and are on the list. If you are not on this list, you are likely not approved to use GI Bill benefits and will need to obtain approval.
Designate a space
Sure, it is easy to put your designated Veteran representative in the admissions or bursar's office out of sight to the public. Still, to build trust and accessibility, your Veteran's office should be public-facing. Having an office space where Veterans and their families can speak with subject matter experts makes a difference in customer service and retention.
Including designated spaces where Veterans can informally meet on campus would additionally encourage event and on-campus participation. Consider adding computers, printers, study space, a kitchenette, and working with your local VSOs or local VA to set-up a telehealth center so Veterans can balance appointments.
Create a Veteran transition course
Veterans and dependents returning to school will likely be on the move every four years and will need a better grasp on state and local resources to meet their needs, especially for Reserve and Guard components in your state. Their transition or continued service does not receive the same national attention level as active-duty Servicemembers in transition.
Many institutions mandate a first-year experience course. Use this course as a foundation for a specialized Veteran curriculum for effective return to civilian life, covering various topics from college resources, career advisement, skill translation, and other frequently asked questions. This curriculum would also include how-to reduce food insecurity, identify those at-risk for homelessness, gender-specific issues, and mental health resources.
---
This blog was written by a member of the Veterans Education Project. These are the views and opinions of the author and are not necessarily that of the Veterans' Education Project.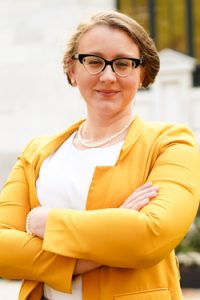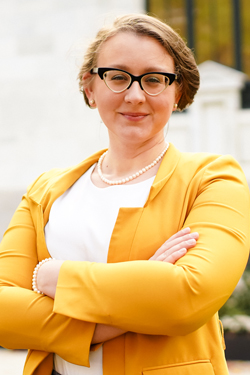 Ashley Gorbulja-Maldonado
As a powerful voice for the military-connected community, Ashley has dedicated her career to expanding opportunities and improving outcomes for non-traditional students in higher education.