At Veterans Education Project, we remain committed to highlighting those schools and institutions we view as best working towards the elevation and success of America's Veterans, whether it is through providing a Veteran-friendly campus or school policies that cater to the needs of non-traditional students. Today, we wish to highlight the excellent work of Indiana Wesleyan University (IWU).
IWU is a non-traditional school that offers associate, bachelor's, master's, and doctoral degrees and is a top choice for those who have already begun their career and are looking to boost their prospects. Nnamdi Anene was one such student.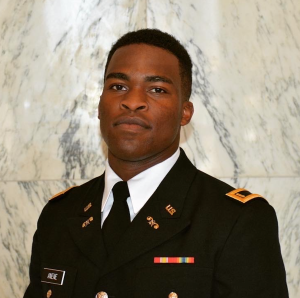 Anene is a 2nd Lieutenant in the Indiana National Guard, but he began as a dental specialist in the Army. While happy to serve his country, Anene kept one eye on the future, conscious that he needed to plan for life after the uniform. Given educational opportunities that come with military service, he decided to search for programs that complimented his service responsibilities.
As he searched for a course that was compatible with his educational and scheduling needs, he spoke with his mother who was also advancing her education at the time. She had received her BSN from IWU and was now continuing on there with her MSN. As she spoke of her experience, he became convinced he'd found his next step.
Anene was accepted into the Master of Public Health Program just as his mother was finishing her Master's. As he attended his online classes, he found that he was more than another face on a screen to his mentors and professors. He received personalized attention and care that went beyond treating him as a student, but as an entire person. IWU understands their students have often already begun living their lives and have concerns as well as obligations beyond class. As he recounts, "You really get a one-on-one relationship with them."
Yet he received more than just an education tailored to his particular needs and person. He credits IWU with his mother's success and, upon his own graduation, is already seeing opportunities blossom for himself. Anene currently serves in a chemical unit in Indianapolis, but he is confident that his future is secured. If you are looking to jump start your career, Anene says that IWU is the way to go.
It seems natural that non-traditional universities would be best able to cater to non-traditional students, such as Anene. This is reflected in the data which shows that the most popular destinations for GI dollars are online universities that have spent decades catering directly to Veterans, such as the American Public University System which includes American Military University.
Unfortunately, potential legislation such as changes to the 90/10 rule would target schools that invest most into helping our Veterans. While we continue to fight such legislation and push for policies that help Veterans, we know that this fight is more than just limited to the halls of Congress. We hope that by telling the stories of men and women like Nnamdi, we can show Americans and their Representatives the true face of Veteran education.